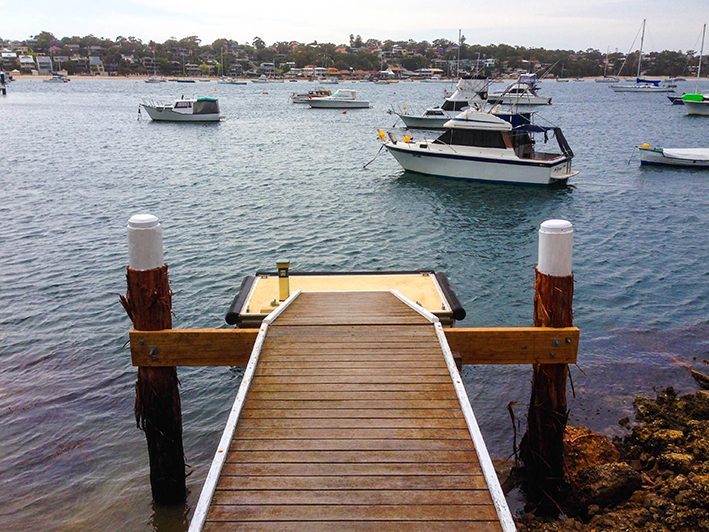 Jetty Construction, Repair, and Maintenance
Sydney Jetties Pty Ltd has been building safe and practical marine developments for 3 generations. We take care of each and every stage of the development, from the initial consultation through to approval, certification and delivery of the finished project. Sydney Jetties provide a comprehensive jetty construction, maintenance and repair service.
Based in the heart of Sydney, we are conveniently located to provide our jetty consultation, construction, maintenance and repair services in Sydney Harbour, Parramatta River, Georges River, Port Hacking and beyond.
Aesthetically stylish, highly practical
At Sydney Jetties, we believe in creating developments that are an efficient balance between form and function. We believe in designing and constructing jetties that are both highly functional and practical, as well as visually appealing and that enhance the aesthetic of your property. Our team have a vast wealth of experience and knowledge for creating a solution for your development that you will be truly happy with.
Contact us to get started
If you would like to start the conversation with Sydney Jetties regarding our construction, maintenance or repair service, feel free to get in contact with our friendly team of staff. We are dedicated to providing an exceptional standard of client service and communication, and are always happy to help.
Call 02 9529 0498 or fill out an enquiry form on our contact page and we will get back to you as soon as possible, and with all the information you require.
Our Services
We specialise in both Commercial and Residential Works
Our project capabilities extend to the following areas:
Contact us for A FREE QUOTE TODAY
WE ARE SYDNEY'S JETTY SPECIALISTS- We are looking forward to hearing from you today!